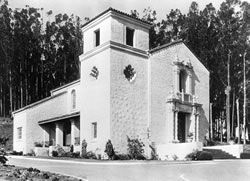 Built in 1931, the Presidio Chapel needs a major facelift and expansion to best serve the interfaith center of tomorrow. Issues such as earthquake codes and accessibility were not considerations at that time. The congregations for which the chapel was built, Protestants and Jews, worshipped in pews. Sunday School classrooms and a large community, or "parish", hall were provided for on the ground floor.
One of the design challenges is to create appropriate space for those religions whose followers do not use pews but gather in circles and/or sit/kneel on the floor. To address these concerns and guide the project, the Interfaith Center has hired the renowned architectural firm, Page & Turnbull, Inc. Page & Turnbull specializes in restoration and historic preservation; they have overseen such high-profile restoration projects as Grace Cathedral, Old First Presbyterian Church and the Asian Art Museum. The proposed renovation project will:
Renovate much of the existing non-sanctuary space to better accommodate a wide range of religions that will use the facility for various events and activities.

Restore the Chapel's historic pipe organ, add an elevator, install new plumping, electrical and heating systems, and update the kitchen and restrooms.

Improve entranceways and exterior landscaping so the Chapel is in harmony with its lovely surroundings.

Provide seismic bracing of the roof and other upgrades to bring the building into compliance with local building codes and with ADA accessibility requirement.s

Provide better space for educational programs, hospitality (both indoor and out) for weddings, gatherings, services.

Provide a permanent home for the McDonald Memorial Peace Windows in a new 1,900 square foot addition.
Donate to Honoring Sacred Space Campaign
Is my donation and credit card info secure?
Yes, the security and confidentiality of your information is our highest priority. We will not sell, trade or share your personal information with anyone else, nor send donor mailings on behalf of other organizations, and we will only share personal information if you have given us specific permission to do so.
Is my donation tax deductible?
Yes, we are a fiscally sponsored project of Community Initiatives, which is a public 501c3 organization recognized by the IRS. Your donation is tax-deductible to the fullest extent permissible by law.
How do I know that my donation was made successfully?
You will receive an emailed receipt immediately after your donation is submitted and your credit card is processed. Your donation will also show up on your bank or card statement within 1-3 business days.
Do I get a receipt?
Yes, a receipt is sent to your email inbox once your donation is processed. Please be sure to keep a copy of your receipt for tax purposes. If you select a recurring donation, you will be sent an individual receipt each period when your donation is processed.
Is my donation private?
We will not share or sell a donor's personal information with anyone else, nor send donor mailings on behalf of other organizations.